BLEEDING HEART STUDIO
FARRINGDON
2 BLEEDING HEART YARD
LONDON EC1N 8SJ. 07850 983190
www.bleedingheartstudio.com bill@bleedingheartstudio.com

There is only one studio,
on this page it is illustrated with a 18 feet square white floor,
please click the photo.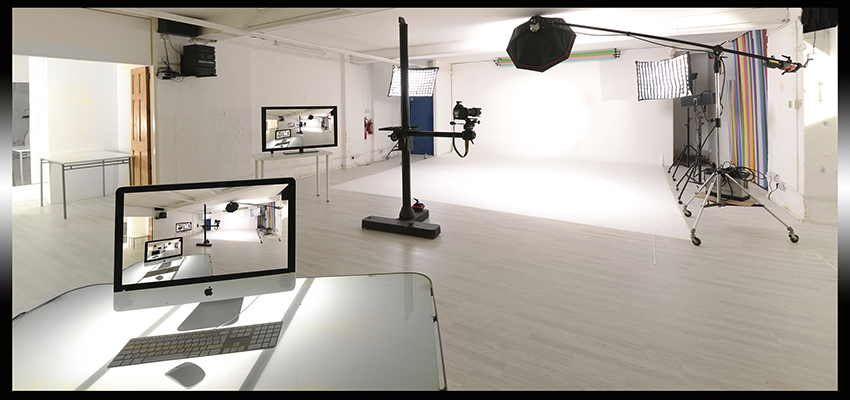 A well equipped photography and video studio in Bleeding Heart Yard very near Farringdon station with direct trains to Gatwick, Luton,
soon to Heathrow and one stop from Eurostar.
The studio is illustrated on this page with a 18 x 18 feet white floor, this can be extended to 27 feet long and can be created with any colour.
On the next two pages it is illustrated with a single width 9 feet paper roll and as clear space.
This studio is not sound proof. It is not ideal when sound recording is of critical importance but can be used as such in most cases.
We have a small studio 4 x 4 metres which is almost sound proof and is suitable for single or two person interviews.
The main studio is illustrated with camera stand and 47 inch TV. Sky poles, lighting stands, polyboards, Wifi and land line are all included in dry hire charge.
Essentials are: 18 ft x 9 ft continuous white wall. Electronic flash and LED video lighting for hire. 1000 sq ft studio space with 9 ft ceiling.
2 dressing rooms, one general purpose room, modest kitchen and a set building area.
One day studio hire without lights or background paper is £325.00 GBP 08.00 to 18.00.
Good selection of 9ft background paper • 18 ft wide floor and wall in any colour to order • green screen • blackout.
Clothes steamer • set build facilities • 4 x13 amp rings
Easy loading • free parking Saturday pm and all day Sunday • Farringdon and Chancery Lane underground stations •
Inclusive offer: one day hire with four lights, white wall, Nikon D800 + 70-200 F2.8, + iMac with Lightroom and Photoshop is £550.00 GBP.